Photodynamic Therapy or Blu-U
The severest of acne has been treated with the oral medication Acutance for a number of years. Concerns over side effects have made the medication far less popular. "High Dose PDT" procedure is carries none of the associated risks of oral isotretinoin.
PDT is a valuable tool for the treatment of mild, moderate or severe acne. Acne Vulgaris requires a concentrated effort to get under control and keep under control. Maintenance, once achieved is a long lasting effort by both the provider and patient. One of the most stubborn aspects of severe acne is the problem of hyper-function of the sebaceous glands. The acne-producing oil glands can be destroyed and/or put on "lock down" for a substantial period of time with the right treatments. The 417nm light from Blu-U causes a photodynamic effect within the oil glands that kills P. Acnes (a bacteria on skin associated with acne).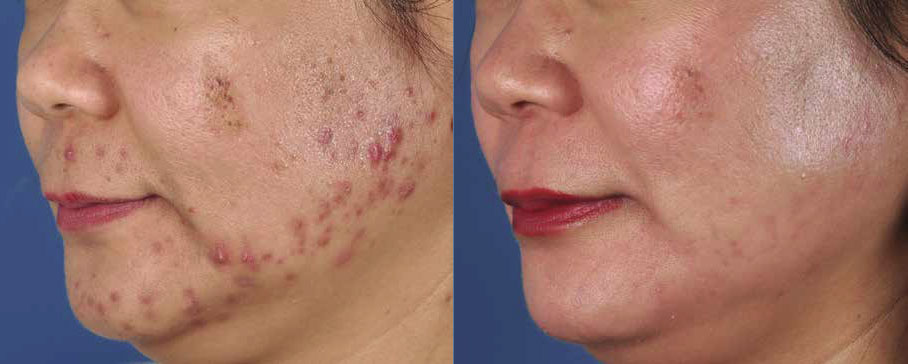 This creates a toxic environment within the sebaceous gland that inhibits the obstruction of the sebaceous follicle and therefore the formation of acne lesions. Treatment is performed weekly or bi-weekly for 5-10 sessions depending on the severity of the acne. Maintenance treatments may also be performed. This effective treatment can be combined with other treatment modalities to optimize acne therapy and is just one of the cutting edge tools used at Skypoint Medical.
Blu-u can also be used for skin conditions like Actinic Keratosis and superficial skin cancers in conjunction with Levulan kerastick. This treatment known as photodynamic therapy can address not only medical concerns, but it can also improve the skin's texture, tone and color.*